S2K Commerce - Products Dropdown
Actions
S2K Commerce - Shopping Cart
Actions
ELECTRONIC SYSTEMS

Simple operation
Low-limit function
Digital boom pressure read-out
Supports a variety of Flow Meters & Control Valves
Audible alarms
Self-test function
Rate bump features
SCS 440 is capable of controlling one product in the form of Liquid or NH3. The control unit is equipped with 3 boom switches.
Manufacturer Item:
063-0171-183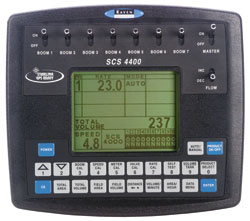 THE INDUSTRY'S MOST TRUSTED SPRAY CONTROLLERS
Raven spray controllers have been setting the standard for outstanding performance and everyday reliability and operation for more than two decades. That same measure of excellence continues today in our full line of SCS consoles, specially designed to match your application needs reliably and economically.
Spray Console
Product Capability
Product Forms
Direct Injection
Boom Control
Boom Switches
SCS 4400
5 Products:
1 Hardwired,
4 via CANbus addition
Liquid Granular NH3
Sidekick Pro
10 Boom Sections
Equipped with 7 switches
Manufacturer Item:
117-0171-565

Combined with a Hiniker heat exchanger, provides accurate measurement and controlof NH3.



Back-lit liquid crystal display (LCD). Easy to read day or night.



7 Functions: View two at once.



Controls up to 3 boom sections using electric ball valves or solenoid valves.



Audible and visual alarms, alert the operator to unacceptable application errors.



Dual automatic rate settings.



Plug compatible with model 8150, 8100, and 
Spray Commander controllers.



Automatic speed sensor calibration! Just drive 500 feet and push a button.



Simulated speed feature! Makes it easy to 
calibrate your sprayer without leaving the yard.



Minimum flow feature! Keeps nozzles from
losing spray pattern when traveling below recommended speeds.



RS232 Communications port. Applications
include variable rate input and transmitting 
data for as-applied mapping.
Manufacturer Item:
8169/8160